Whoa! It's been a crazy, hectic, busy couple weeks around here. This is one of those times of the year where work seems to really inhibit my creative time and I end up spending more time compiling a list of future projects and no time actually completing them. I'm hoping things will start to slow down next week -- I know they won't be back to normal, but I'll take slower for now -- because I've got a whole list of things I want to start tackling!
For example, I've been searching for the perfect mirror to hang above my bed but can't seem to find exactly what I want in my price range. These are a few I've considered, but somehow just can't bring myself to spend the money -- I guess that's a good thing, right?!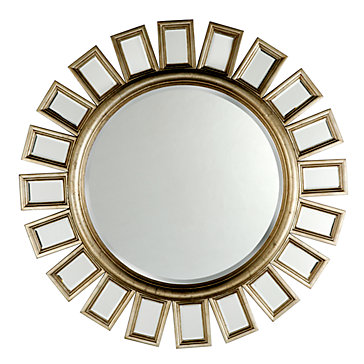 I've also been scouring Hobby Lobby, Home Goods, etc. for some good sales, but still can't find exactly what I want. The price is either wrong, or it's too small, or the wrong finish -- which I know can be fixed, but who wants to do that when you spend money on something brand new?! -- too much mirror, too pointy -- I'll let you take a wild guess which one that might be :) etc.
So, last week while I was doing some lunch break blog reading, I came across Katie's
DIY starburst mirror
and decided I'd just have to make my own! Assuming it's a success, it would solve all my problems since it'd be completely custom. I'm debating between her method, which I love because it's more solid and chunky, or
this one
, or
this one
. Whichever I end up choosing, I've thought of ways to tweak it to suite me more and once decided, will begin gathering my supplies. So, here's one project that has officially been added to the to-do list!
Something else on the list for a while now is to finish up the
dog crate makeover of way back when.
Now that the crates are more prominently displayed in the living room, I'm dying to get some fabric on them, I just can't decide exactly what I want. I'm leaning towards something more neutral like a geometric grey and then I can add some fun new crate pillows for a pop of color -- which I guess also means there's another project on the to-do list.
And, along the fabric discussion, I still need to find something fun to cover the
plain white storage boxes
in my craft nook along with the cork board and lamp shade. I'm apparently leaning towards yellow...
Along with the DIY home decor things, I have a handful of sewing projects I want to get started on. I've had fabric for an
infinity scarf
, bed pillows, and couch pillows for months now and I'm dying to turn my stack of 30+ old sorority shirts into a t-shirt quilt. Speaking of quilts, I also bought some Christmas fabric on sale after the holidays with the intention of making myself a Christmas quilt. I haven't officially decided what I'm going to do with it, but I figure it's never too early to start!
Also on my list -- as of this morning -- is to try an upholstery project similar to this
boxed ottoman.
I don't need something this large, but I'm thinking two smaller ones in my bedroom would be perfect! Ikea even sells
these small side tables
that are cheap enough that I'd have no guilt immediately tweaking them. I am a beginner upholster-er -- as in never tried it, beginner -- and an average sewer so this could either be a total disaster or my biggest accomplishment thus far :)
Hopefully work starts to slow down soon and I can find the time -- and energy -- to cross some things off my list before even more get added! Now, which to pick first...