I have a problem -- I just can't leave things alone.

After rearranging my apartment, I decided to rearrange again.

It wasn't anything too drastic, but I think it helped make just about everything functional and serve some sort of purpose rather than being there because I had nowhere else to put it.

Before showing more photos of the second round of changes, I will warn that a few tweaks have been made since, all for the sake of improvement

J
Because I hate to do things without my tried-and-true homemade furniture planner, here is a preview of the furniture layout via the lovely excel.
The biggest and most exciting difference is that I can expand the bar/table and have more than two people sitting at a time.

The lovely nightstand -- forever moving and changing roles -- is now in the "dining area" and has changed jobs to become a wine bar.

It fits so much better on this side of the apartment and actually serves a purpose now.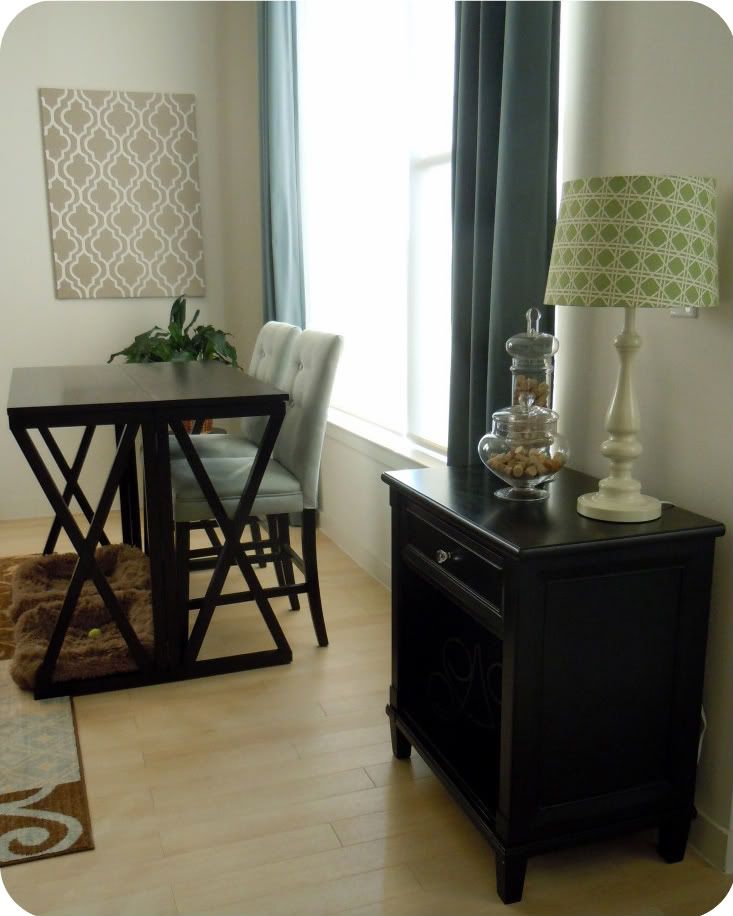 Another pleasant surprise with this layout is the sofa table which now rests behind the often used couch. This is the perfect spot for placing drinks and remotes while relaxing on the couch without having to lean in for the coffee table.
The loveseat is still within TV viewing range -- just opposite where it used to be. The chair is now next to the TV, so not optimal for viewing, but perfect for chatting or having coffee and flipping through a magazine on a Saturday morning -- one of my favorite pastimes.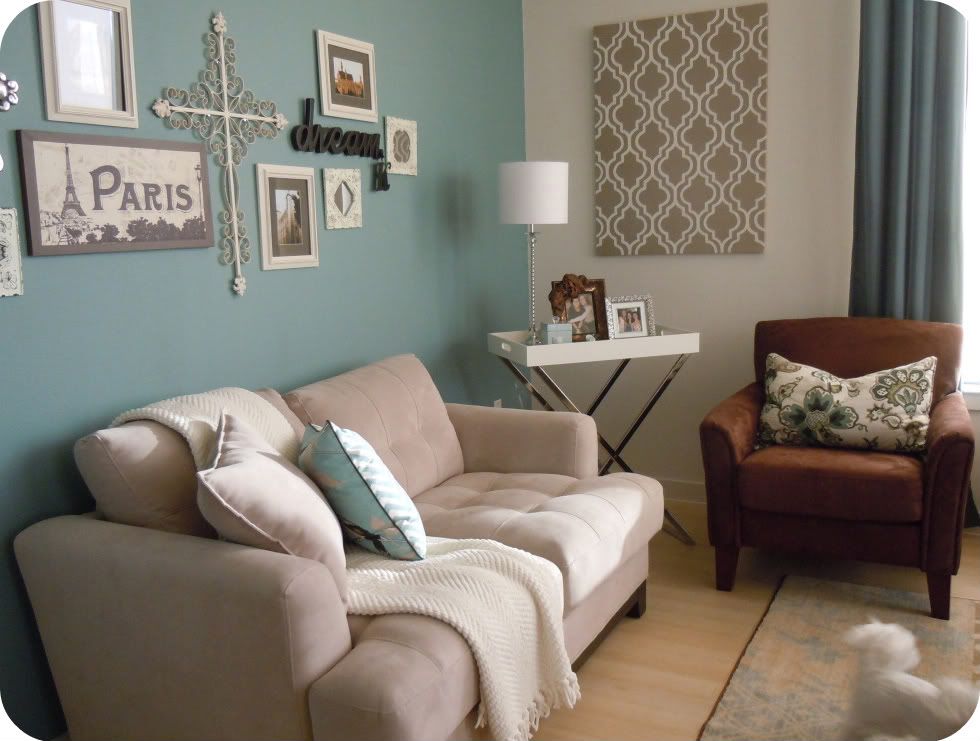 All in all I am thrilled with the change and love having a full table once again.

I even celebrated the occasion by having some friends over for dinner and we were all able to eat together without two people on their knees at the coffee table. Win!

Also, I get full use of the table for sewing once again. This is seriously the perfect table for cutting fabrics and laying everything out while working on a project.
Now, for some changes that have taken place but not pictured.
These lovely barstools -- scored on sale from Target for just $19 each -- have found a home at the table on the side facing into the living room. I am loving this option for two reasons: 1) the fit completely under the table without obscuring any walkways and 2) I didn't want two more identical barstools because of cost and fear of non-coordinating colors.

I have always loved the mixed chair look, so why not apply it to a bar height table as well?!

I have visions of making them over one day with some fun fabric and more cushion
--maybe even joining them together to make a bar height bench.

We shall see…
Another change I've made is to switch out the media cabinet fabric. With such a busy, patterned rug, I think the whole look is just too chaotic. I still struggle with how to bring in more patterns without competing with rug, and I just gave up on this fight. The fabric now is a neutral tan and much calmer next to the busy rug.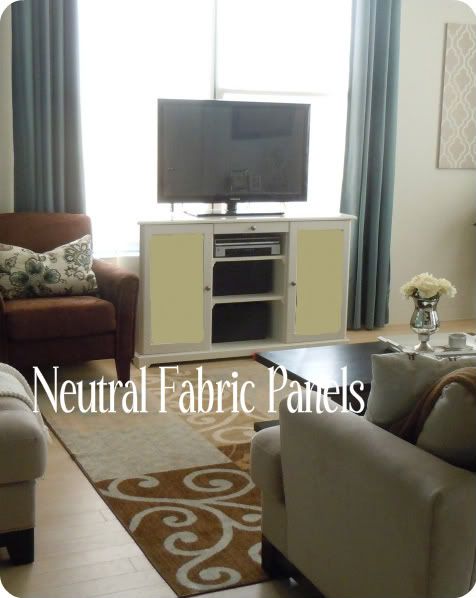 After this final furniture arranging session, I have realized just how many purposes this one room serves!
1) cooking, 2) sewing, 3) dog home, 4) wine bar, 5) dining, 6) TV watching 7) reading
Makes me feel a little less crazy for constantly switching things around -- hopefully they stay put for the long haul
J