Today's project was a completely new venture for me. For one, it involved sewing clothing which I have never even considered doing before now. Secondly, because it was clothing, the fabrics were all new to me, knit and silk. Lastly, it involved enemy colors -- crimson and cream. As a Texas grad, I bleed orange and loathe anything maroon or crimson. But, in the name of sisterly love, I got to work making a gameday outfit for my little sis.
I came across
this amazing blog
a couple weeks ago called
Sweet Verbena
. This girl is so great at inspiring and explaining things that I decided even I could sew clothes -- I overlooked the fact that she went to A&M :) We'll just call today 'Rival Inspired Sewing Day'. But, back to her blog. She has this great
bow tie shirt tutorial
that looks as equally simple as it is stylish. So, I decided I'd make my sister an OU gameday shirt. I won't bother explaining how I made the shirt because Katy does an amazing job and you should really read her blog daily. After following her tutorial, I ended up with this sweet little shirt.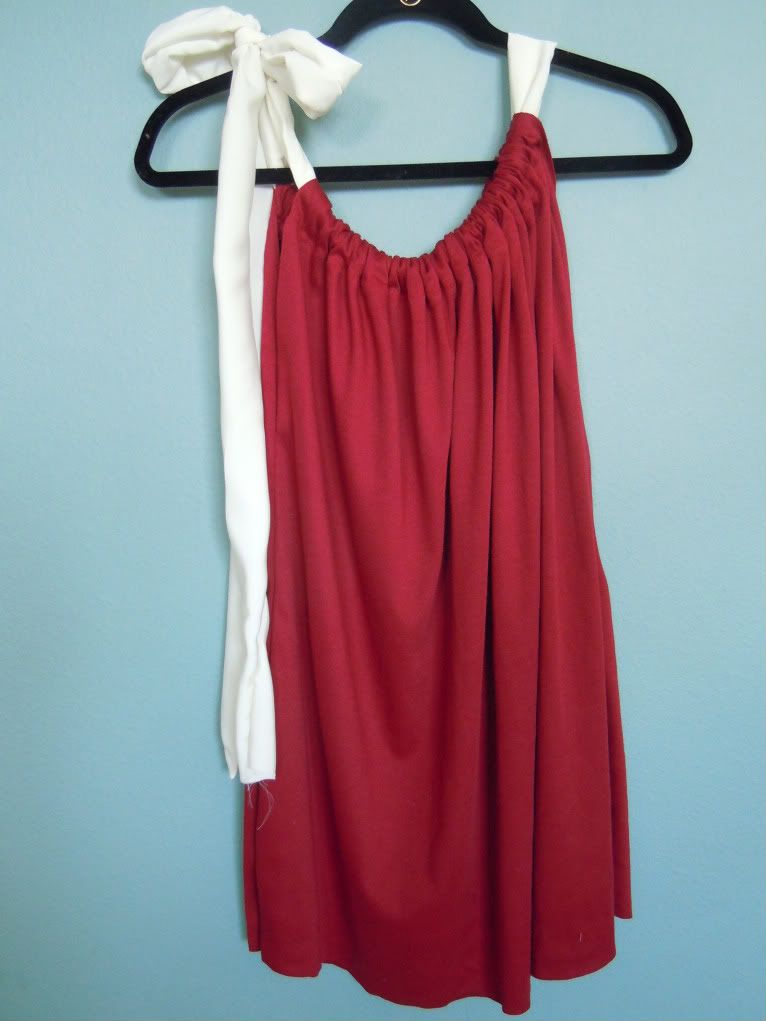 Once I finished her shirt, I happily tried it on -- overlooking the awful color choice. It was pretty long on me and my sweet sissy is a good 6" shorter. I double checked Katy's tutorial, did a little more reading and realized this girl is 5'9"! I needed to cut a good 9" off to get it a normal length for my sister. I debated cutting and hemming the bottom until I remembered my leftover silk fabric.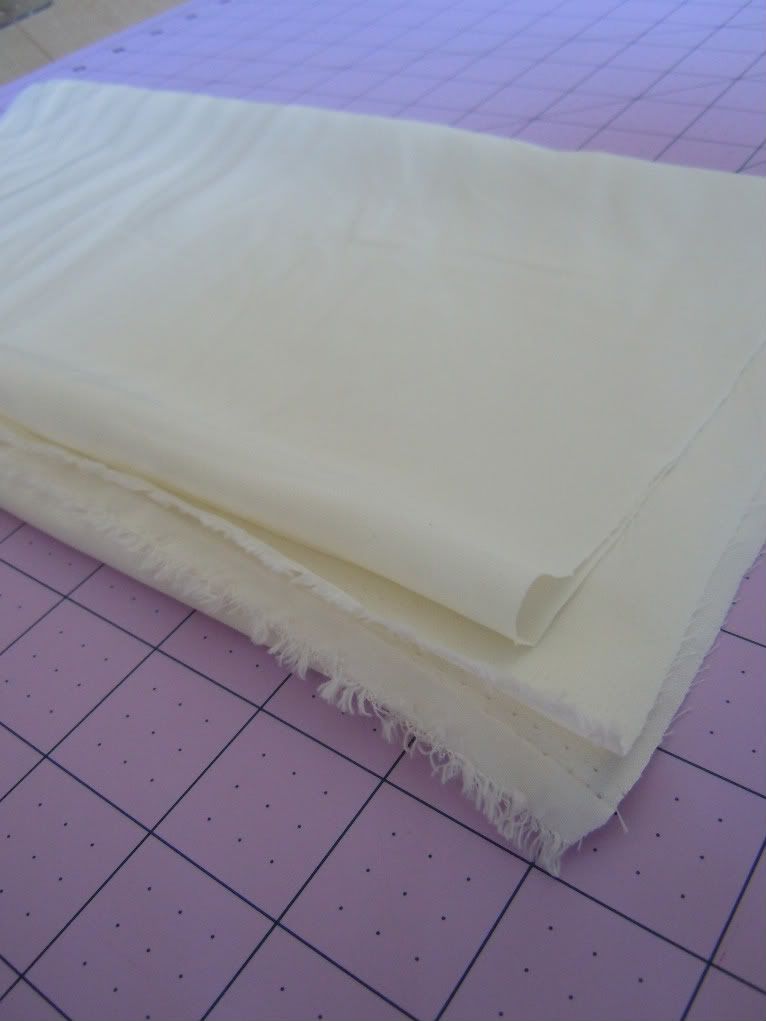 Since it was practically a dress already, I decided I'd rather add a couple inches of material than cut it off. So, I got to work cutting my leftover silk. I decided on 4" of length simply by eyeing it while I had it on. Since the silk is thin and most likely see through in one layer, I cut 8" wide so I could fold it over, wrong sides together, and have a nice finished look.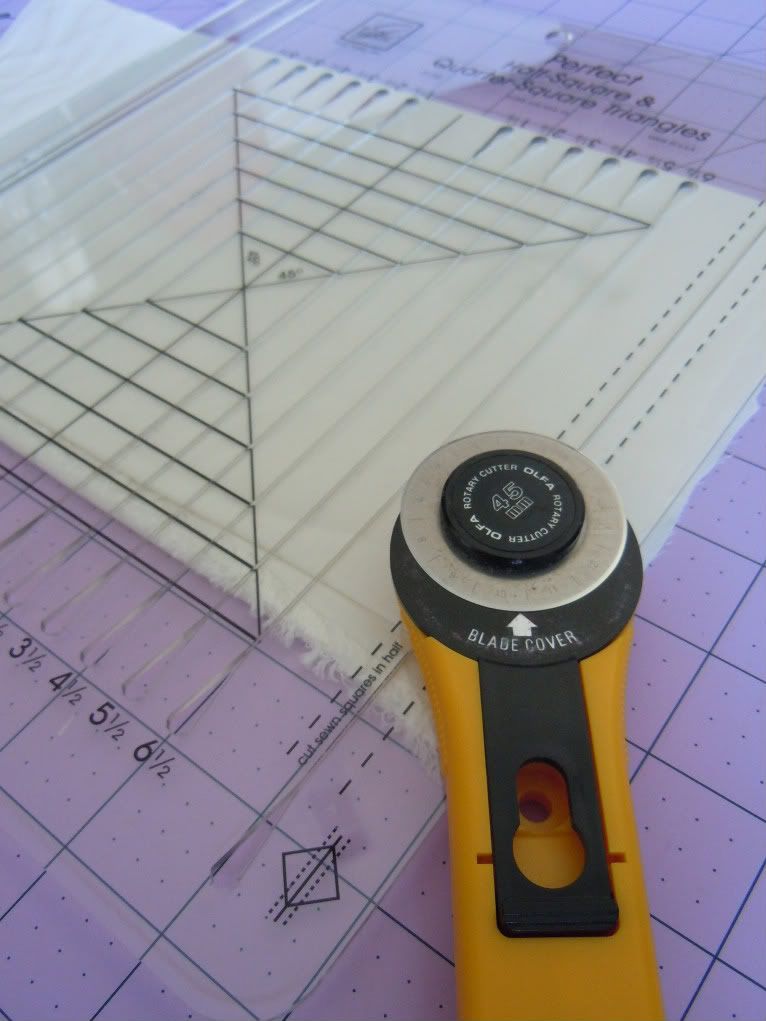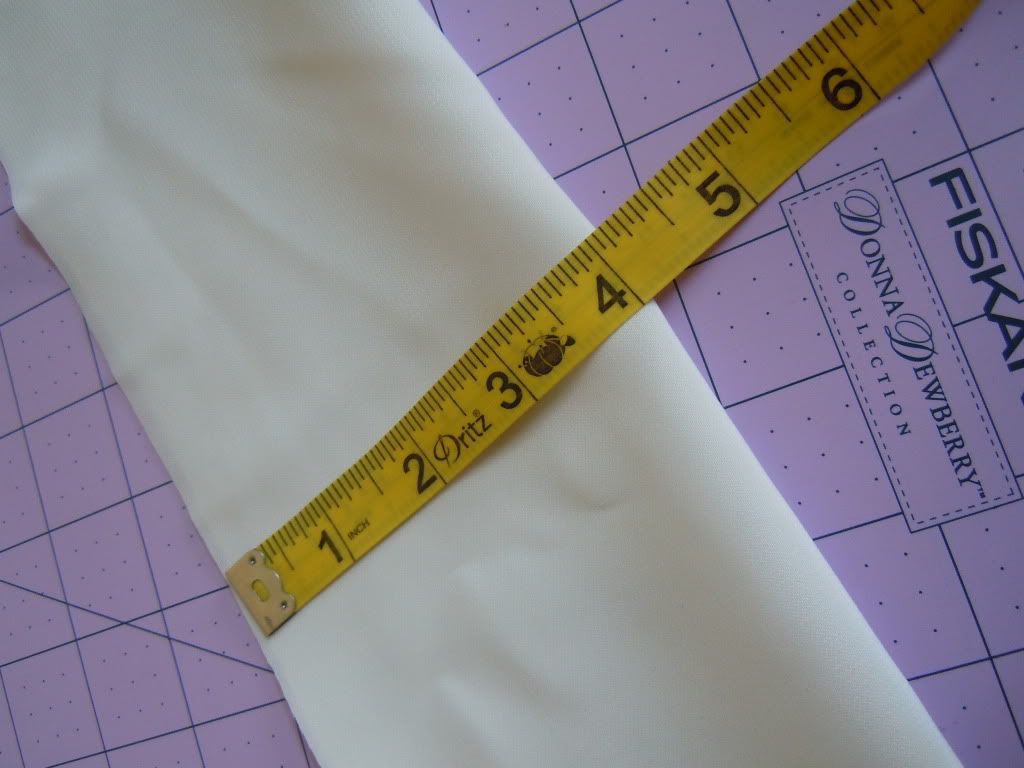 Since I wanted the bottom to look like it had been there all along, I ripped the two side seams about four inches from the bottom so the trim would later be sewn in. With the shirt-dress inside out I laid the right side of the silk along the bottom with the fold pointing towards the top and the raw edge lined up with the raw edge of the shirt-dress. And, in case you're worried about knit, Nolan clearly approves of it's comfort.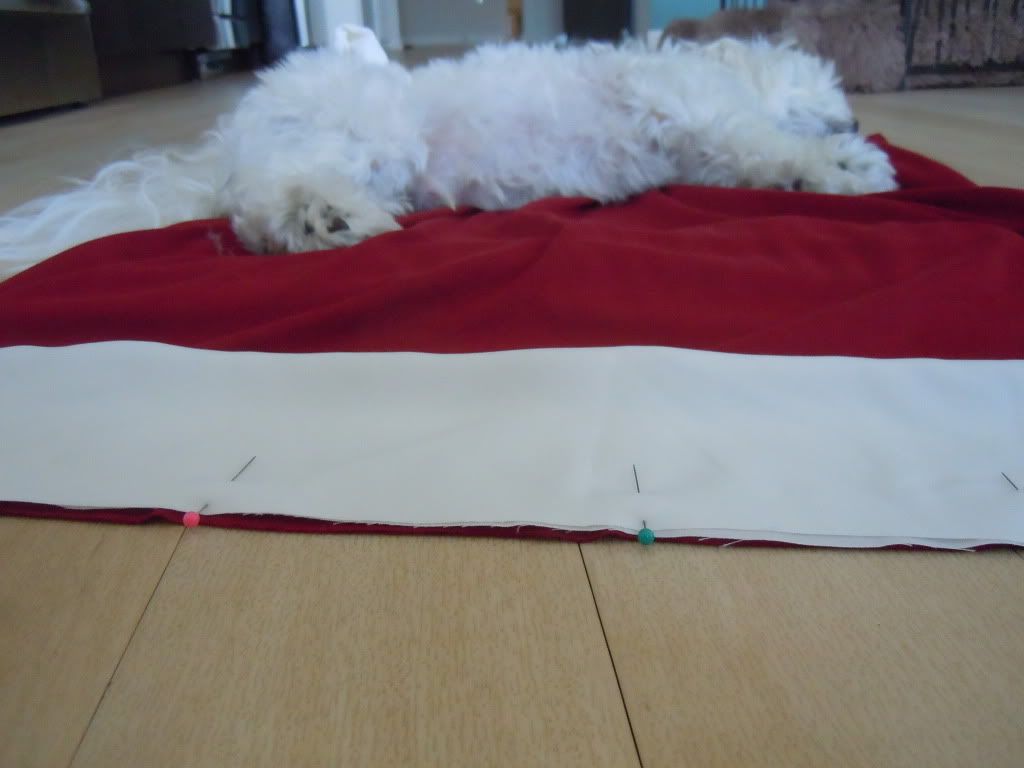 I then used a zig-zag stitch to attach the trim to the bottom of the dress.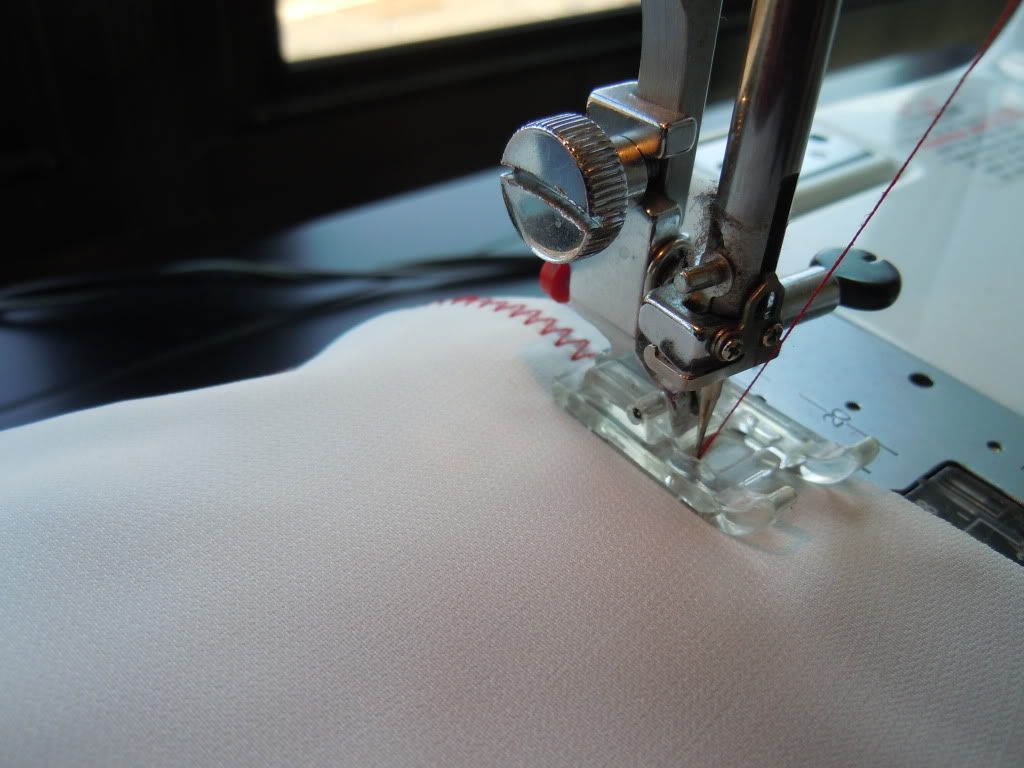 Since I needed to sew up the side seems I re-opened earlier, I tried to dress on once again to see how the width was looking with the extra length. Since my sister is a tiny 5' girl, I decide to take it in a little bit -- you can see below where I repinned and ultimately restitched the sides of the dress. At this point, Shiloh also decided to try out the dress' comfort and clearly approves. I guess I'll be using knit again!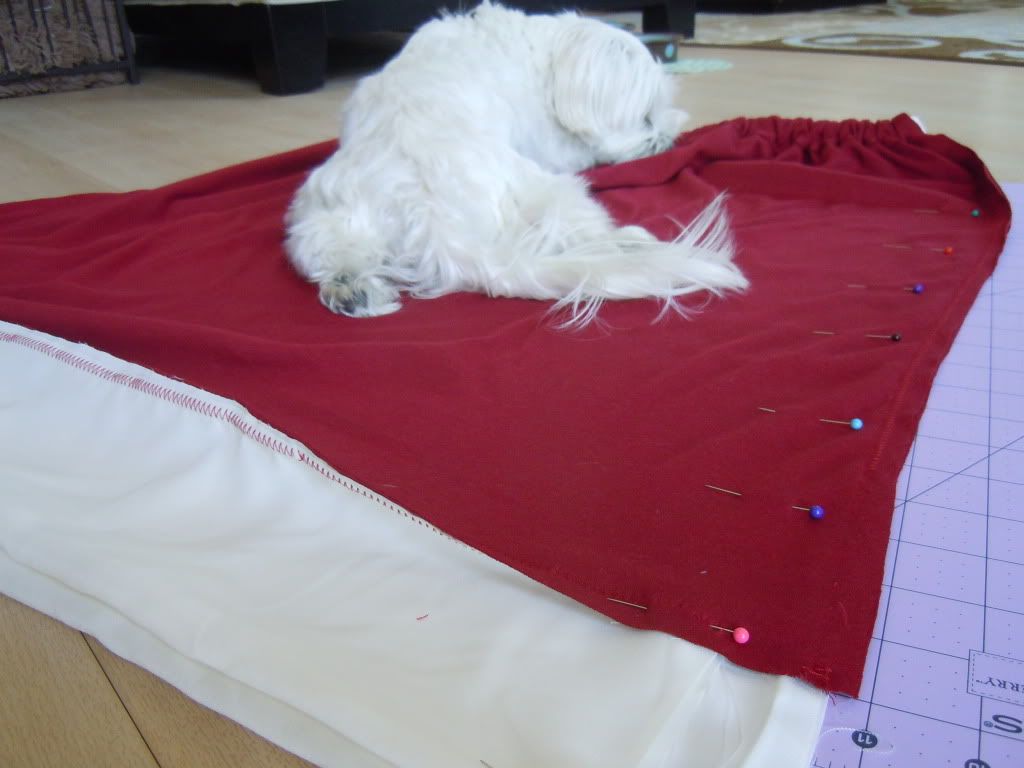 I trimmed the extra fabric from the inside seams to reduce the bulk and I was done. Hopefully Samantha will have a few OU games to attend this year.
Side note: If I had known from the start that I was going to add the silk trim, I would have done this right after making the casing at the top of the shirt and before sewing the side seams together.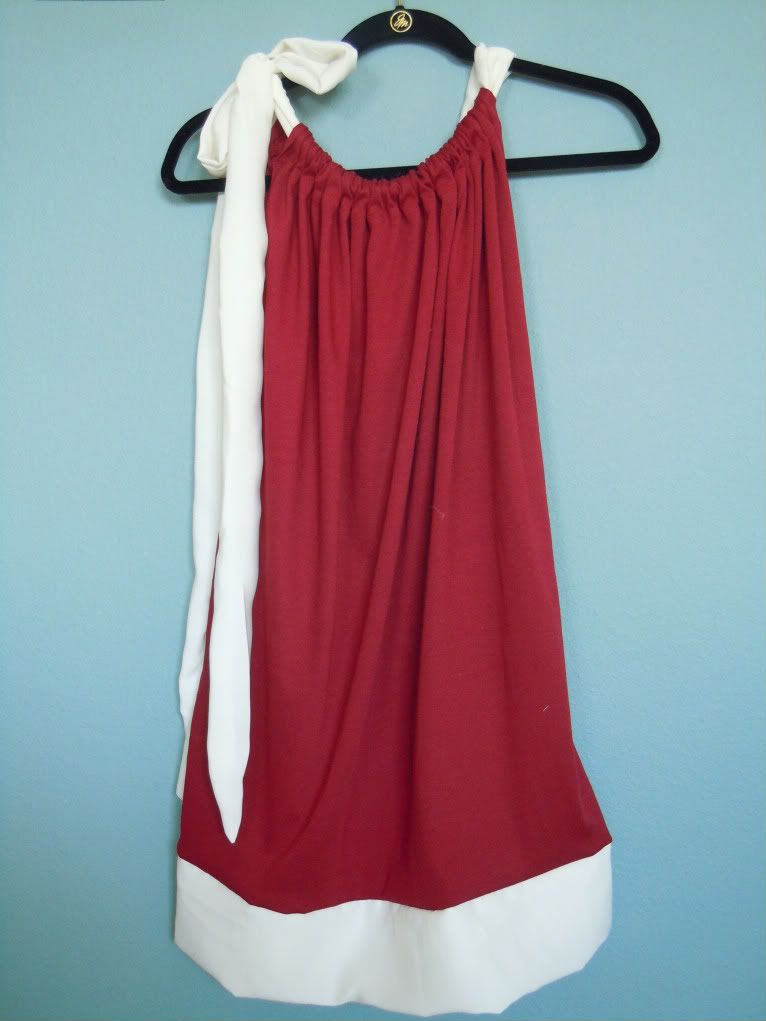 p.s. after being overloaded with Crimson and Cream, I decided to get some white knit fabric and various fabric dyes to add some burnt orange clothing to my future project list. I'll be sure to throw something together before football season starts!